16-19' Drywall Rolling Lifter Panel Hoist Jack Caster Construction Lockable Tool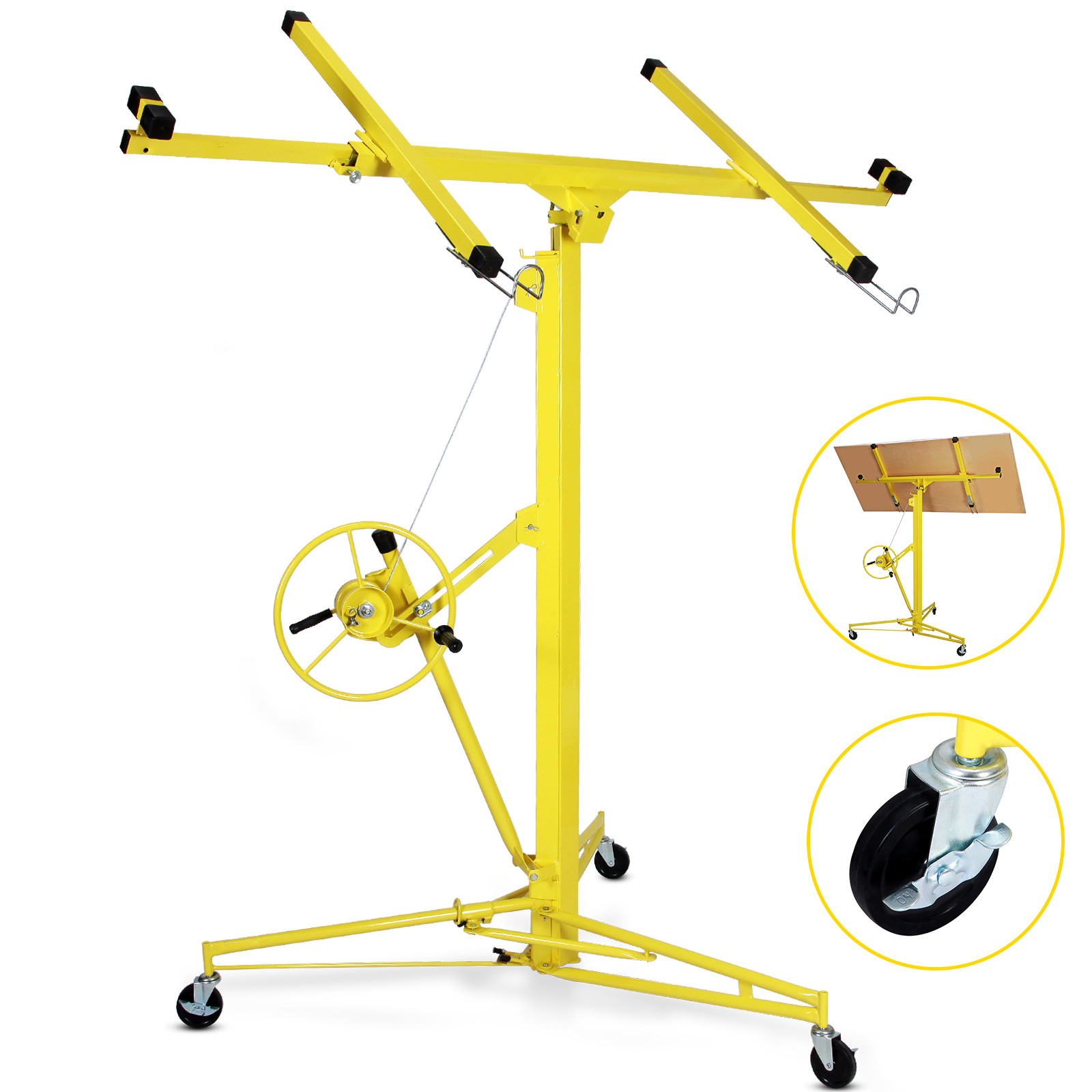 Features
Load Capacity: 150 Lbs
Lifts 16' Ceiling & 19' Wall
Sturdy welded steel construction with powder coating
Apply various Drywall panels up to 4ft*16ft
Could Lower To 55" Off The Floor For Easy Panel Loading
4" Caster Wheels For Easy Rolling
Hoist tilting for ceilings and walls
Built-in winch with brake
Foot Stops To Keep The Lift In Place For Safety
Easy assembly
Disassemble no tools required
Perfect For Both Home & Commercial Use
CE standard.
Product description
Warm prompt :Recently, we have found out other sellers Misappropriation our main photo And price significantly lower than the market price,pls customer is paying attention to that the main photo is only belongs to our store.
The Drywall lift allows one person to lift drywall panel that is up to 4 x16FT in size, without assistance.
The panel can be raised to height of 16' -19
'
for attachment to level ceilings or (with the lift's cradle tilted) to sloped ceilings or side walls.
The Lift's cradle could lower to 55". off the floor for easy panel loading,
Foot Stops to keep the lift in place for safety and can support up to 150lb.
Specification:
Material: steel
Apply various Drywall panels up to 4ft*16ft
4" caster wheels for easy rolling
Load capacity: 150
Power source : hand chain
Foldable: Yes
Brakes: Yes
Color: yellow
Components:
The Drywall lift has following components which must be assembled before use:
Tripod base assembly
Frame assembly, which includes a winch assembly and standard(170cm) telescoping lift sections
Cradle assembly, without its detachable cross arms
Two cradle cross arm assemblies
User's Manual Included
LIHO offers a wide range of products from furniture supplies to economical lifestyle goods to provide you a fruitful ebay experience.
AMAZING PRICE
No physical stores. No middleman. We ship the products directly from the manufacturers, and pass the savings to you. Without the middleman we connect you directly with the manufacturers, saving you up to 70%.
UNCOMPROMISED QUALITY:
We strive to accommodate Buyers with the largest selections of unique and high quality goods sourcing directly from top manufacturers at extraordinary online bargain price, without sacrificing performance.

WORLDWIDE BASED COMPANY:
LIHO is a worldwide-based company. Our warehouses located in UK, BELGIUM, AND US.
100% SATISFIED CUSTOMER SERVICE
At LIHO , we want you to be 100% satisfied with your purchasing. So, we continually strive to provide you with a quick and convenient shopping experience first time, every time.
We only accept PayPal Payment. For credit card or debit card, you can make the payment via PayPal.
Refunds are normally issued within 2 working days. If you need any further information regarding payments, please contact us via eBay message.
ITEM AVAILABLITY:
We try our best to deliver your order as requested. From time to time, something that was ordered may not be available anymore. If that happens, please accept our apologies. We'll let you know as soon as possible by sending you an e-mail. The unavailable item will be removed from your order and you will not be charged for it. Don't worry, though, we will ship the rest of your order just as you asked.
You can contact us on normal working hours.If you have any queries,please contact us via eBay.
Featured Categories
Shop Categories
HOME ESSENTIALS
GARDEN & OURDOOR
BUSINESS INDUSTRY
PET SUPPLIES
SPORTS & FITNESS
Musical
Other
Helpful Links
Add to Favourite Seller
Ask Seller a Question
About Us
Contact Us
View Feedback
Visit Our eBay Store